Welcome to The Occasion Treasure Box
Where decor visions come to life!
What we do
Why have so many vendors?
Full Wedding Fl

orals


Going with artificial is a choice more and more couples are making today. Using sustainable materials that you can either hold onto forever or can be reused or resold to another beautiful couple or given to a family member is so meaningful. TOTB can help with any and all floral needs. Bridal bouquets, boutonnieres for men and corsages for mom's or flower girls. High quality silk flowers, Hand crafted silk flowers, paper flowers, or even made from a loved ones clothing. No matter how unique the request. If its floral we do it!
Personalized Lettering work
Everyone wants to personalize their big day. Acrylic, wood, glass, or mirror we get all the perfect details of your big day and create signage and stationary that is all your own.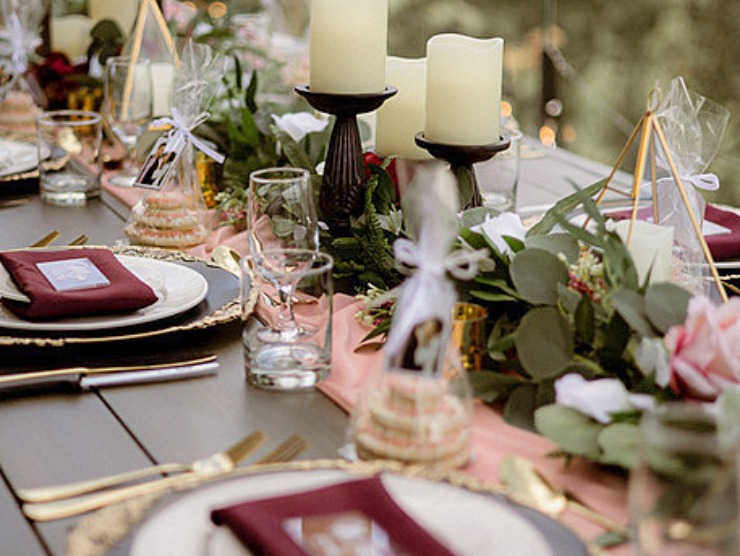 Putting it all together
TOTB can build all the extras or just be there on the day of to put it all together for you and take it all down. As decor specialists as well as florists we can make the entire vision come to life for you. Having your whole day put together by the same company makes planning everything so much easier.
These works of art can be made to look soft and romantic or really modern. They are so eye catching in anyone's overall decor. Choose only the pieces you need or get the it all. You choose the fonts, colors, and wording of course and we create pieces that personalize and complete the look of your vision and ties it all together. Ask about our individual wooden signs too!
The all inclusive acrylic package

*1- Personalize seating chart (whatever size needed to accommodate all tables)
*1- 18' X 24" Personalized Welcome/Established on sign
*3- 8" X 10" of your choice (unplugged, hashtag sign, treats table, please sign our guest book) You choose what you need.
*up to 8- 5" X 7" matching table numbers.
*up to 50- 3.5" X 2" individual place cards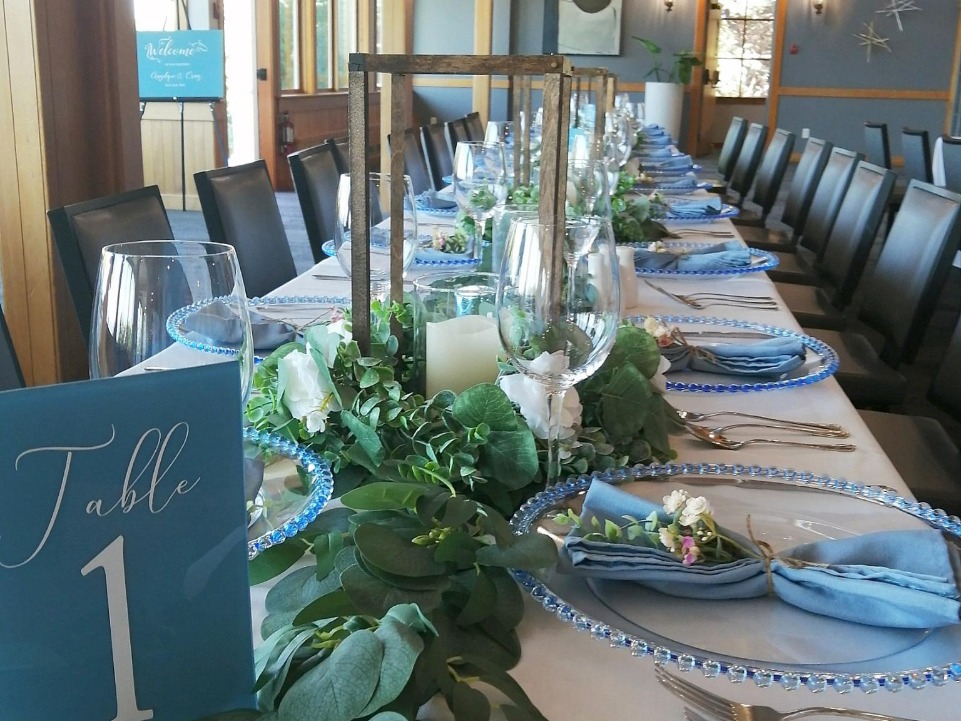 TOTB can also put it all together for you. We can simply set up all of your decor & flowers, or we can chat about having us do it all. Getting all your floral needs, signage needs, and any other decor needs including any rentals taken care of by the same place makes life so much easier and can often save you big $$$. Lets chat about it!

Blue and blush, so pretty for a spring time event. Baby blue Ranunculus, gorgeous cotton candy pink Roses, along with dainty seed branches and Cherry Blossoms. So incredibly payfull!
Photo credit www.principeproduction.com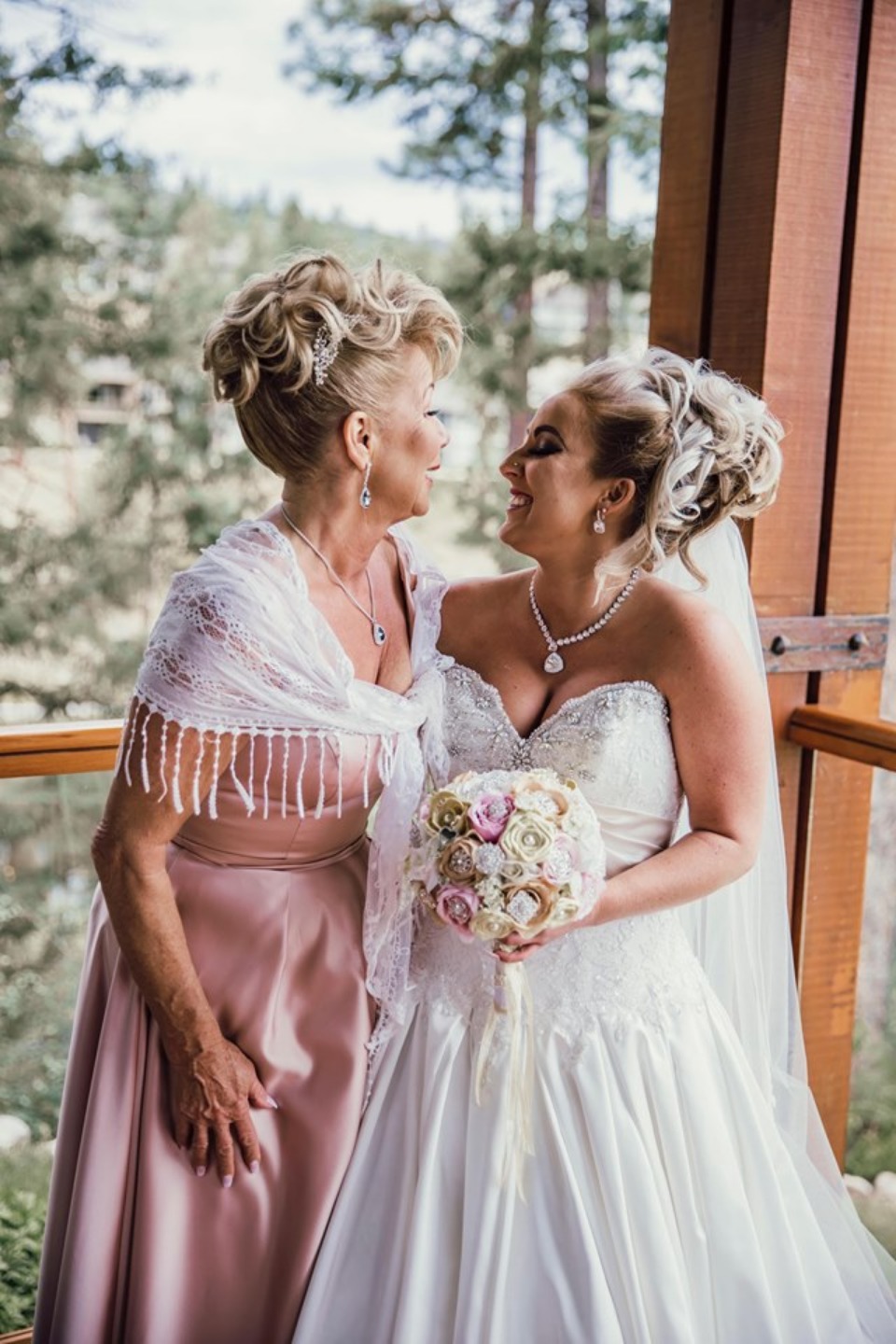 This beauty features yellow rolled ribbon roses, and lace roses made from this bride's mom's wedding dress. What a great way to use a family heirloom!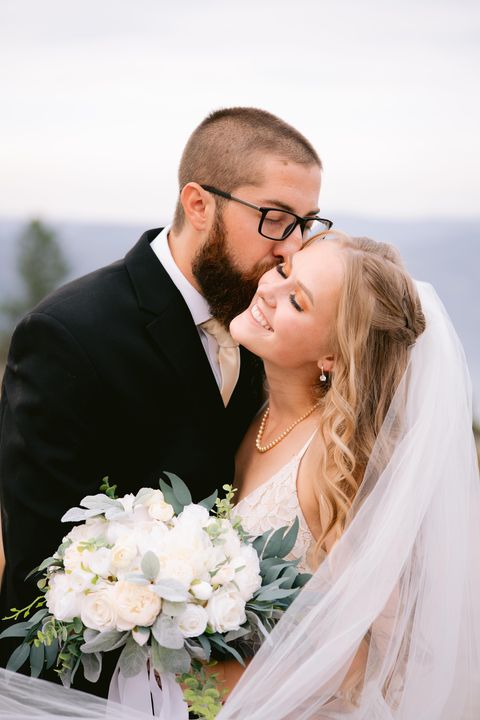 There is so much to be said about how classically gorgeous white can be. This piece was created using Garden Roses, Cabbage Roses, adorable cream Tea Roses and Peonies. Accented by vevelty soft Lamb ear and Willow branches. So classic.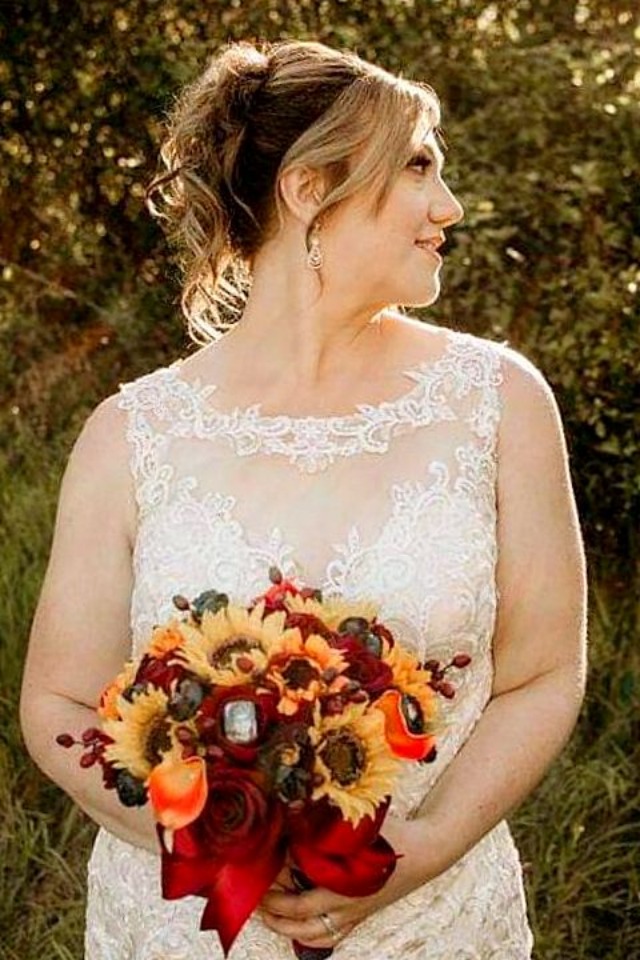 This beauty features vibrant red Roses, orange Picasso Calla Lilies, and big bright Sunflowers. If you want to make a statement this combination is a surefire winner!
This sensation is 100% paper. A Harry Potter themed wedding needed something out of this world. Using all the different house papers and some gold leaf for that beautiful center Rose. This collection was one of a kind.
Another tribute to parents. This piece features large sage Peonies created from one of the bride's mom's blouses, as well as white rolled ribbon Roses from one of dad's dress shirts. Such a special forever keepsake.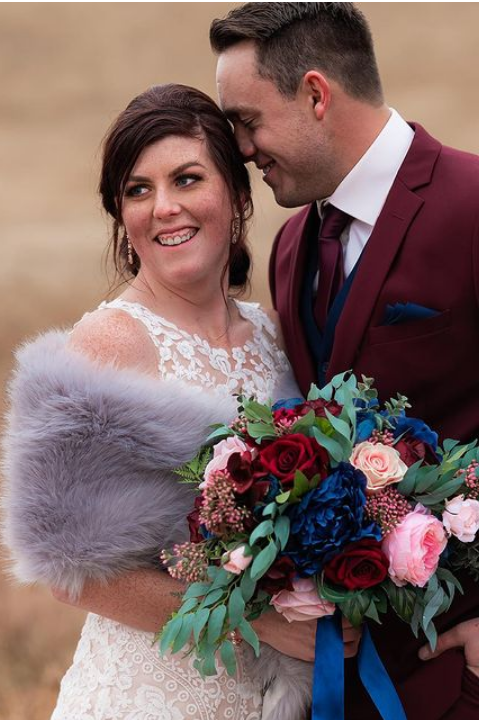 This bombshell from our webpage cover, just cannot be understated. The combination of burgundy, navy, and blush together has such great contrast that it screams for attention. With this kind of color details, you barely need any other decor to make your day pop.
Photo credit www. karissadawnphotography9.mypixieset.com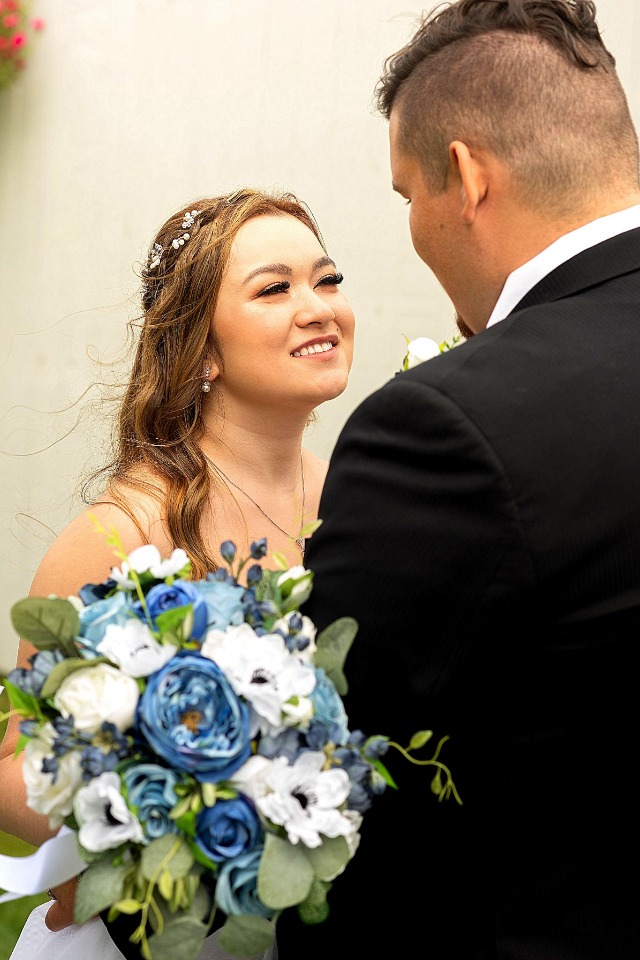 Blue can be feminine. This collection featured beautiful dusty blue Tea Roses, and Cabbage Roses, stunning Anemones, and some adorable slate blue Delphiniums. Paired with gold accessories these beauties pulled the entire wedding together.
A picture like this makes an amazing "thank you" card. This one was done with a navy blue background and bright white font. Great contrast and easy to see.
Wooden details are amazing too. This one is actually a guest book that you can write one with permanent markers. We can also make charcuterie boards, welcome signs, memorial pieces. If you can think it we can make it.
So much more than just bouquets. Arch pieces like this are priceless. This piece was 16 feet long, and could not be missed from almost 100 feet away. Featuring Wisteria, many different size roses, as well as Ivy vines, we know this display was a conversation piece.
These floral hoops were made for a beautiful classic set up at Summer Hill Winery. They blend in so well with the environment you would think they were made by mother nature herself. These can be made in any size or color.
I had two acrylic signs made for my wedding and they were perfect. The service was amazing. Highly recommend!
Kylla Turner, Red Deer Alberta - Google review 2020
I had my wedding flowers done here, and the amount of professionalism and care that went into the entire process was phenomenal. Communication was open and easy, the timeline was quicker than expected, and the final product was beautiful! I would recommend The Occasion Treasure Box to anyone for any flower needs! I'll definitely be using this company again. Thank you!

Lori Escher, Kelowna BC - Google review 2020
With short notice (about 2.5 weeks) and a hope that someone could help do my flowers at the last minute when the previous plans fell through, Rachelle saved the day, a few times in fact, as the COVID rules changed daily. The support and ideas and absolutely perfectly arranged flowers you did we more than we hoped for. thank you!

Chelsea Gibson, Lethbridge Alberta - Facebook Review 2020
I highly recommend Rachelle! My flowers turned out amazing. She was so easy to work with even with me being all the way in New Brunswick. For anyone looking for wedding flowers and a special keepsake I highly recommend you work with her.


Ashley Winchester, Fredericton New Brunswick - Facebook Review 2020
Rachelle was the most response, communicative, helpful vendor we worked with for our wedding. She did an amazing job on our flowers (bouquets, ceremony florals, and botonnieres); they were exactly like the inspiration pictures I sent and looked gorgeous in our photos. She did all the decor for our ceremony and the setup + takedown for the reception. She made things so easy for us by coordinating directly with the venue and even brought some candles and extra touches for our reception that made our dinner tables pop. 10/10 would definitely recommend and hire again; she is so sweet and was lovely to work with.

Breanna Weibe, Van

couver BC, Wedding Wire Review- 2019
Absolutely amazing!
We struggled to find someone who was able to make our visions reality (mostly because we weren't really sure what we wanted) BUT The Occasion Treasure Box absolutely NAILED IT! I am over the moon in love with the bouquets, I left a lot of the details up to Rachelle and she totally bles us away. I cant get over how happy I am with my bouquet, the colours are gorgeous and so well balanced! They will look amazing in our photos and I love that I get to keep these beauties long after the wedding is over!
Sidney Webber, Kelowna BC, Wedding Wire Review- 2019
Call or email us with any questions you may have.
This is just example text. Click to edit and add your own content. This section is perfect for inspiring your site visitors to contact you. You may also want to include any important information regarding how (and when) a visitor should contact you.
Theoccasiontreasurebox@gmail.com