Welcome to
The Occasion Treasure Box
OUT OF THE BOX CREATIONS & DECOR FOR YOUR SPECIAL OCCASION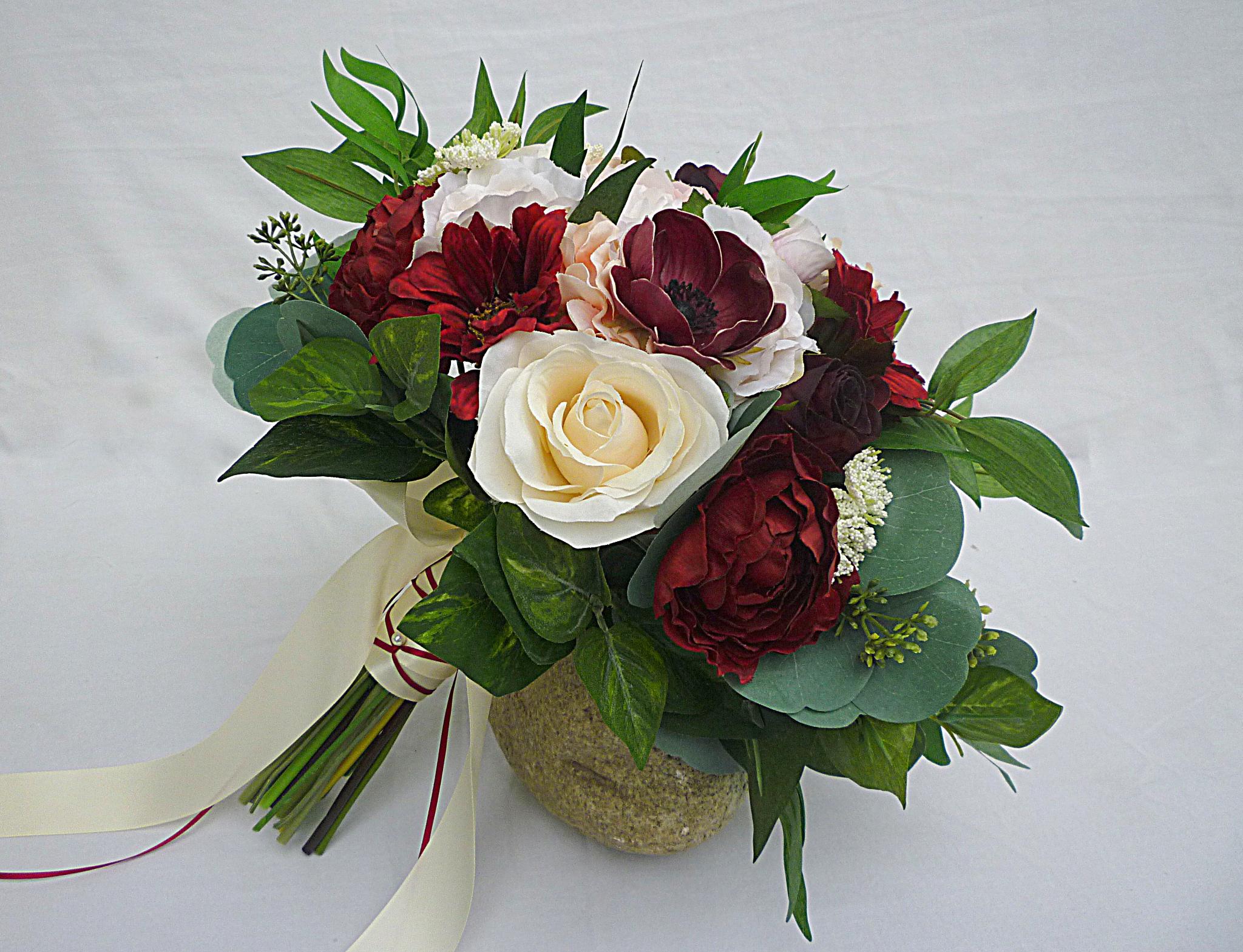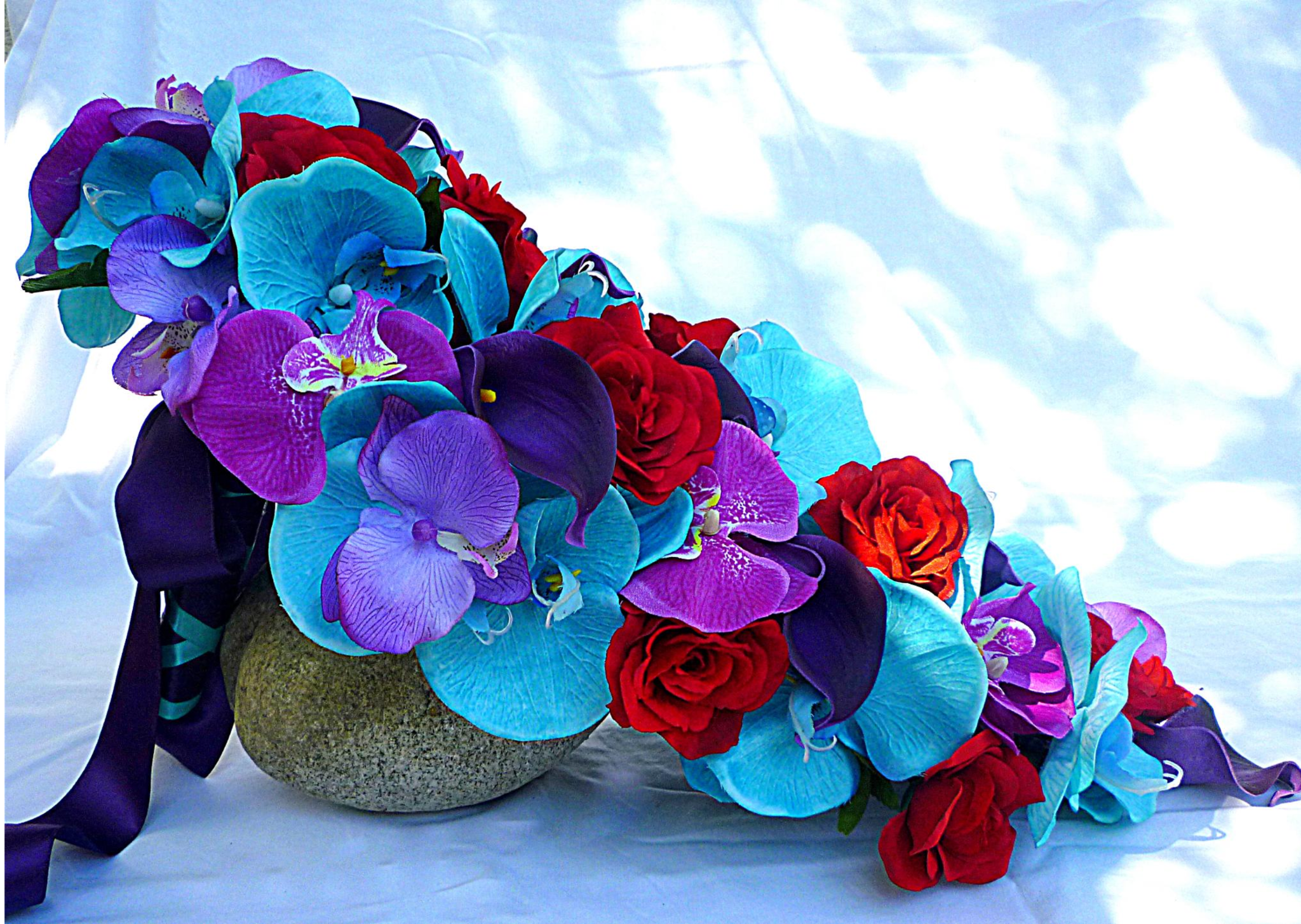 Golden Fire Boho
This amazing collection of fall inspired beauty is almost beyond words. Dried, preserved Wheat stocks, Thissle, and 2 different types of Eucalyptus, mingle together with gorgeous silk burgundy Dahlia's, roses, and bright beautiful orange Hawkweed flowers. Special touches added by the bride were Lavender sprigs, Star of Bethlehem (which were hand painted gold, as well as the unbelievable eye catching golden Gerbera Daisy. All of this natural came together to produce a hybrid bouquet like none other. This bouquet goes into the TOTB hall of fame for most unique styled bouquet for sure.
Creamy Burgundy Sensation
Such a romantic color combination. Stunning burgundy Anemones, cream Roses, and lush greenery make up this wonderful bouquet. Complimenting the brides gorgeous cream wedding dress, this bouquet was mistaken for real all day. This set was paired along side with a giant 3 foot arch piece over top of the couple. Featuring giant cream Daliahs and burgundy Roses this collection was just what this couple wanted.
Absolutely stunning Blue Ranunculus, paired with Picasso blue Calla Lilies and classic white roses offers such a wonderful burst of color and a contrast to any beautiful wedding dress. This customer came after visiting fresh flower florists and being told that this color was nearly impossible in this time frame and that the color would bleed on the dress. Using fabric dye I was able to achieve the perfect color and that never rub off onto any dress. The flowers were a big hit with the crowd.
This amazing piece is so incredibly colorful, it is sure to keep all eyes on the bride. In shades of purple, teal, and a vibrant red this bouquet is simply stunning! Using Orchids, Calla lilies, and roses this bouquet can be done in any color and is simply just too unique to not save the show.
This piece was a spur of the moment pick from a bride who's wedding got moved up by an entire year. Together we brainstormed, and this Calla Lily, Rose, and Fern cascading beauty was the result. The color scheme is timeless, and Fern compliments the two flowers so well.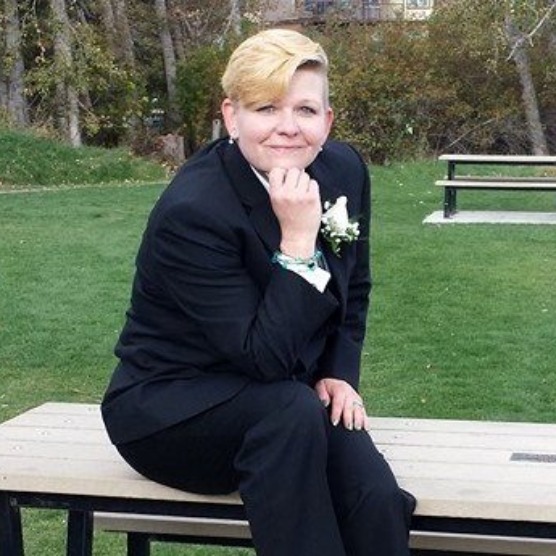 When I was younger I had always imagined I would do something creative. I Even took a floral design course in college hoping to go that way. When life took me out of college to have my first born I set my dreams aside. As my son and our family grew it was time for me to return to the workforce. My younger years of making extra cash and putting myself through college gave me nothing but fast food restaurant experience, so it is naturally where I ended up. I grew in the career and was quite successful in fact. But was never happy and couldn't stay at any one place for too long as I was always searching for something more. Its a really strange feeling to be in a job that your really good at but never really feeling like you belong. That was me in my almost 16 year career as a quick service restaurant manager. When the budget allowed or some holiday event came up I was allowed to let my creativity shine but there isn't much creativity room in the franchise world. You do as your told and you do it better than the next guy with less salary. At least that was my experience. So incredibly drained by the constant grind of the service industry I became a different person. Angry at the wrong people, distant to my children, and just plain miserable.
One year I had made these exceptional Christmas cards for my family and some of my staff. The reviews from these little folded pieces of cardboard were overwhelming. A few months after that a good friend of mine who had seen me "tinker in my basement" asked me if I could create their wedding invitations. Of course, I graciously accepted. Upon seeing the invitations and knowing my creative nature she asked me if I would do their entire wedding decor. The reviews from the wedding were also overwhelming. I had such an amazing sense of accomplishment but I must say I still didn't believe I was good enough. After the wedding as the wedding coordinator return to help tear down the equipment she began to rave about my work and invited me to join them at their next bridal expo.
I was terrified to make the big leap however I thought of an old saying my grandmother you to say "The only things in life you really regret are the risks you didn't take" From that point on there was no looking back. I took a part-time cleaning job to make sure I continued to be able to provide for my family and began working on what is now my dream come true. I can't imagine living any other way now. Being a part of peoples special day, and enjoying a positive career that really is about love and pure happiness is the most wonderful way to earn money. I make memories for and with people and although it is still technically a service for me it is my legacy and I welcome every new twist and turn that comes along with it.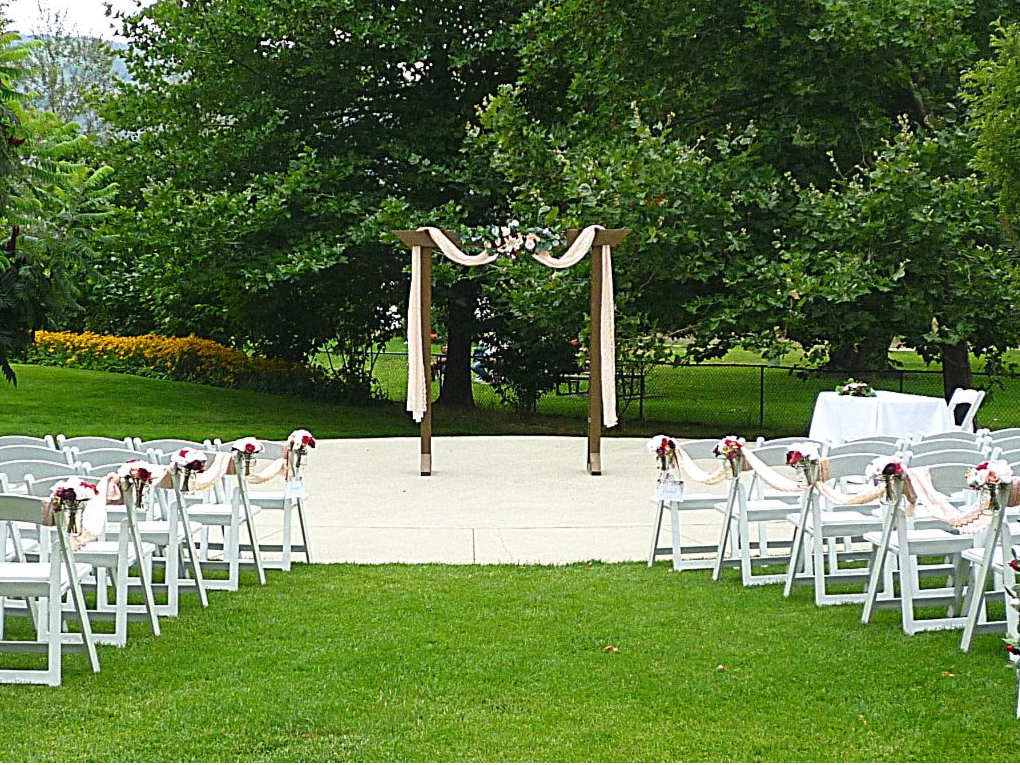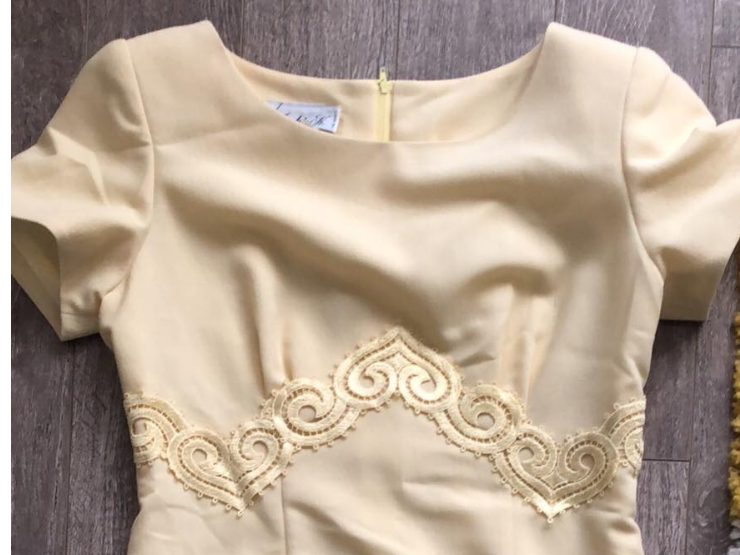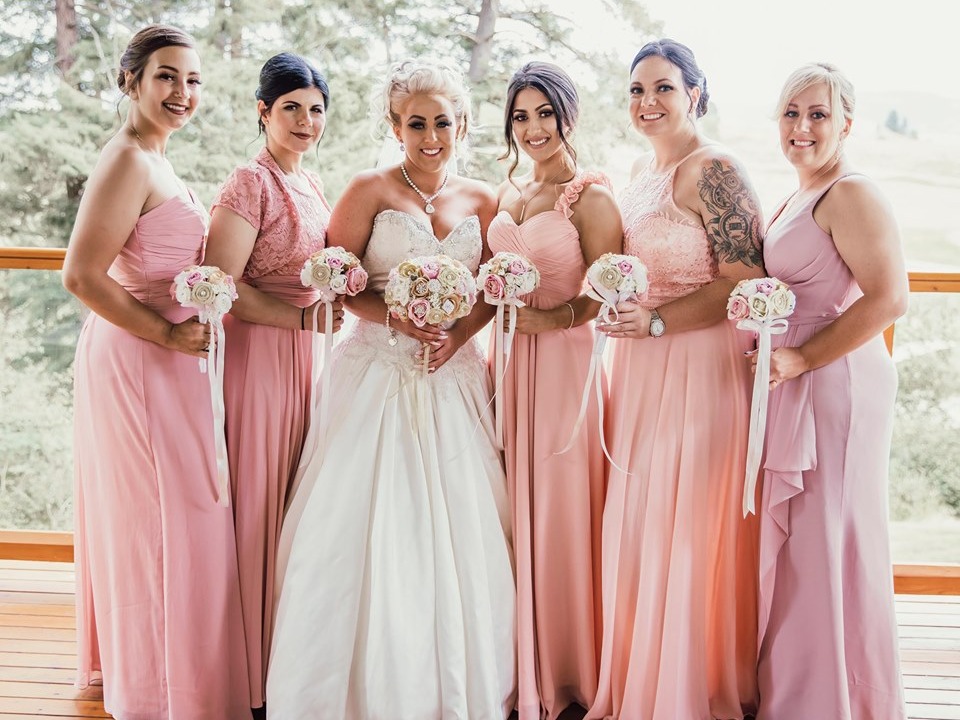 Decor, Set up & Tear down

Flowers are just the beginning. The Occasion Treasure Box, can help you with all of your wedding decor needs. From finding all the items that work for you to creating ones and setting them all up with your perfect vision in mind.
All decor prices are completely custom at the time being as everyone needs are so different. Discounts do apply to Wedding Wire customers or ask about the current TOTB discounts offered. Like 20% off your entire order if you order 1 full year ahead of your big day.
Complete Wedding Flower Services


Your wedding is everything. Live flowers are gorgeous, but are fragile, and wilt. Handcrafting flowers from cloth and fabric creates floral visions without the ordinary limitations. Perhaps using clothing from a lost loved one to bring a part of them artfully to your day. Or releasing your creativity for unique textures. Maybe just something traditional and timelessly beautiful based on a live bouquet. Whatever your concept, they will last; a treasure frozen in time, taking you back to the perfect wedding you dreamed of.
I will include you in every step of the process from consultation to creation of a romantic wedding memory.




I have created fantastic flower designs for the most wild themes, to the simplest refinement.




Anything you can dream, we can create together, From Bridal bouquets and hair accessories to cake toppers, and center pieces. All with the durability to maintain beauty forever.



Choices made simple with pre-designed bouquets and packages
 Choose from any pre-designed collections shown below then choose the package you need and hit GET A QUOTE and get in touch. Its wedding flowers made easy.
Available Pre-Designed Styles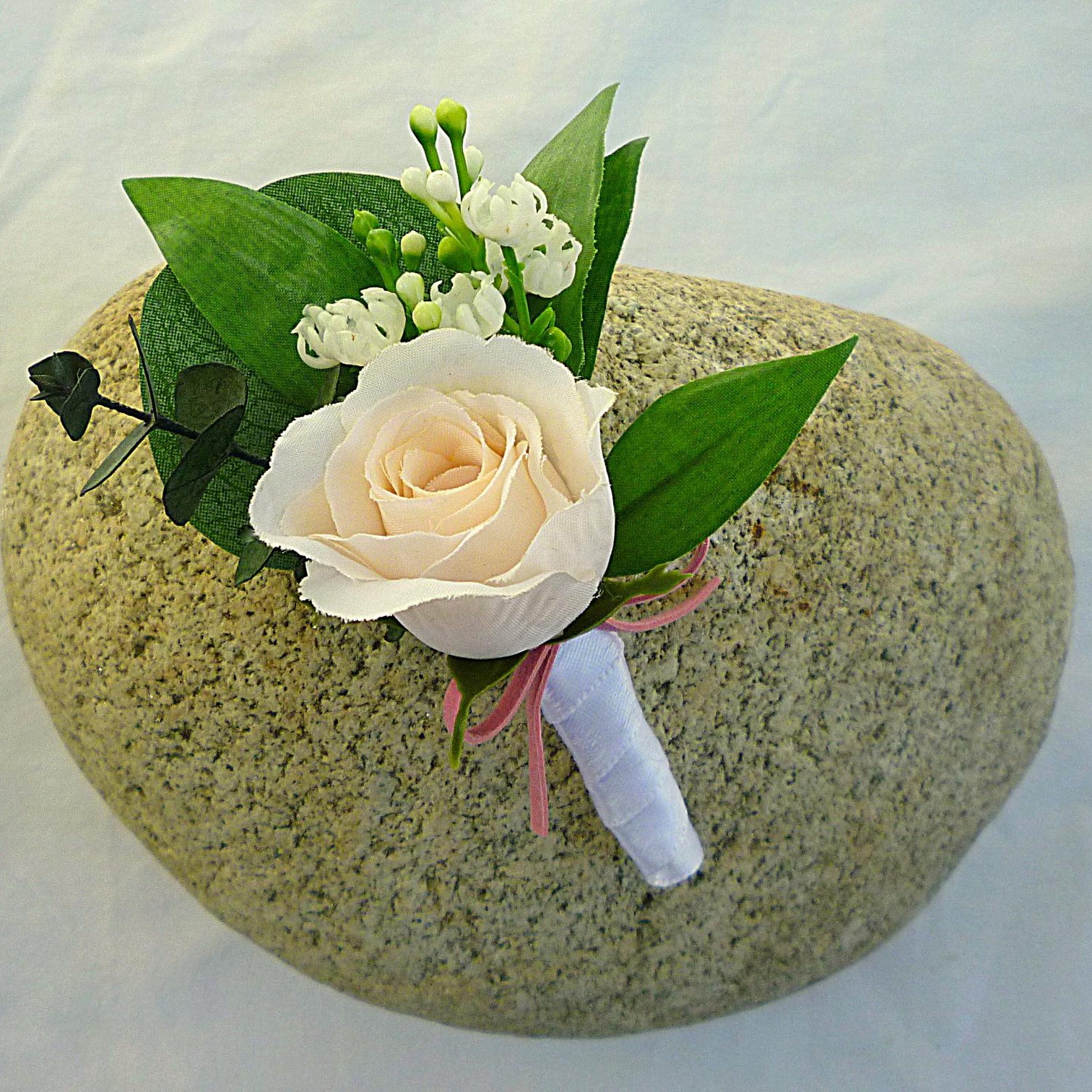 Simply Stunning Collection

*Beautiful open roses available in most colors
*Big beautiful Peonies available in most colors
*Beautiful Gypsia Family Filler
*Eucalyptus sprays
*Seasonal hardy greenery
*Wrapped in complimentary silk ribbon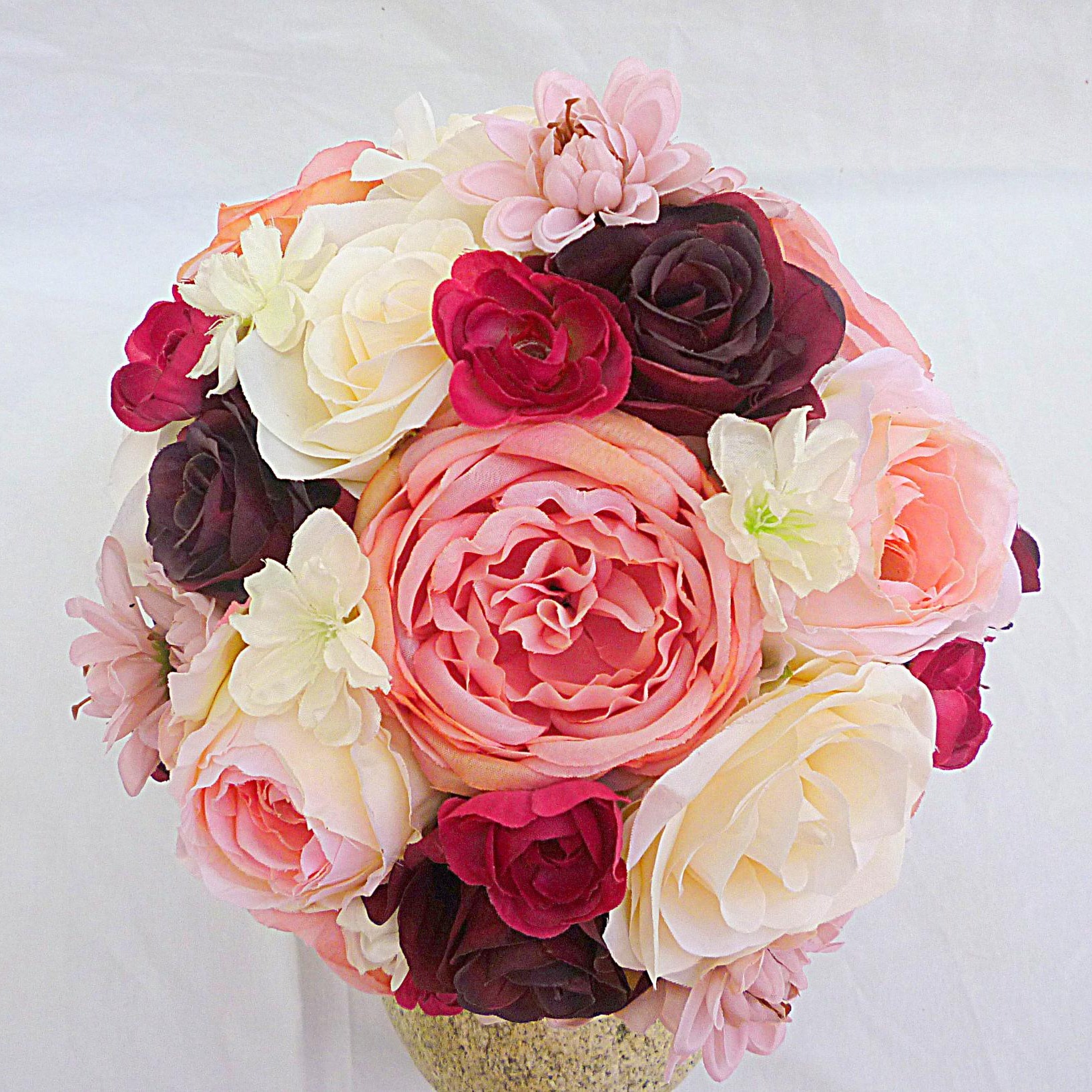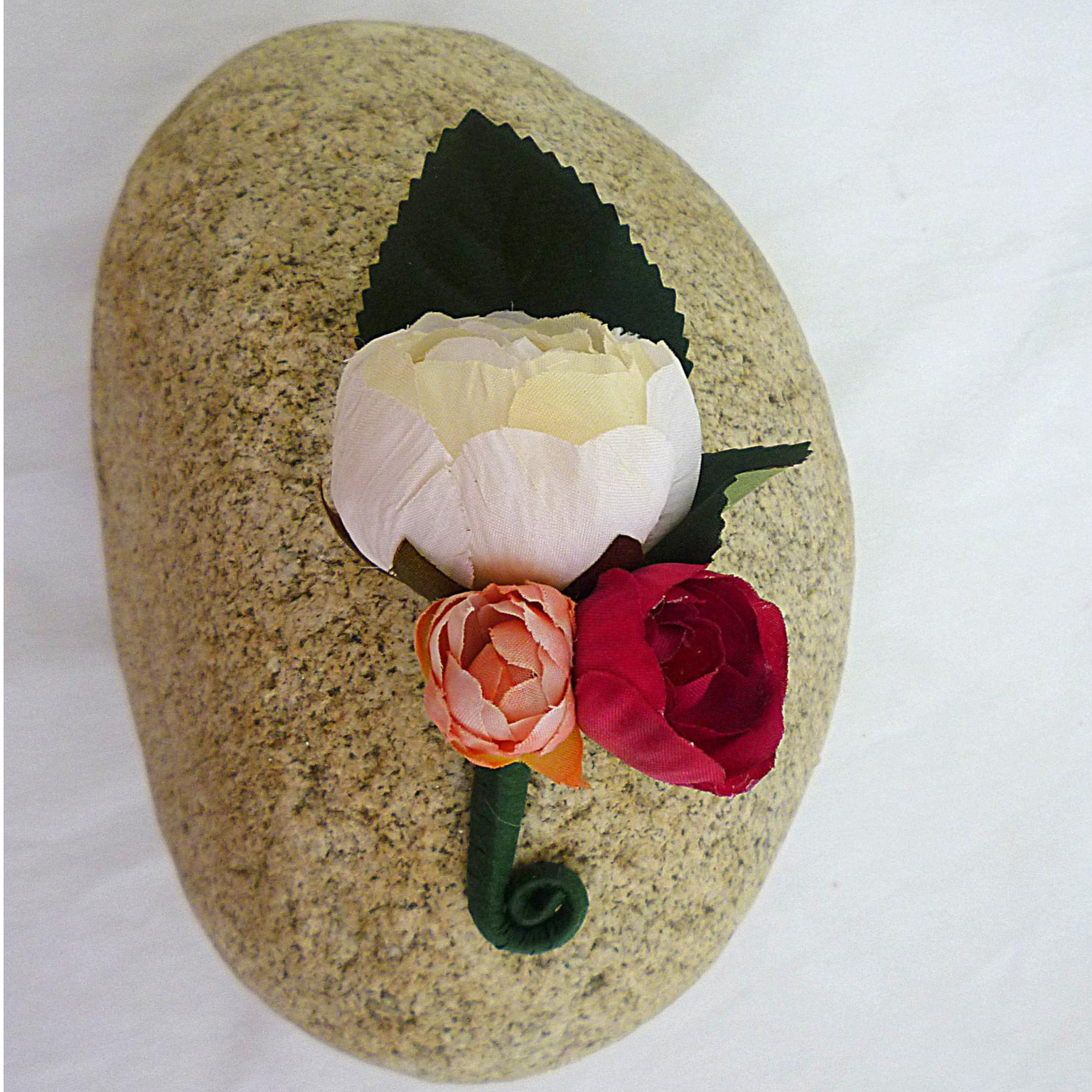 Pretty Peony Collection

*Beautiful Cabbage roses available in many colors
*Full garden roses
*Cherry blossoms & and small Ranunculus flowers to accents
*Greenery as filler only in this collection
*Wrapped in any complementary color silk ribbon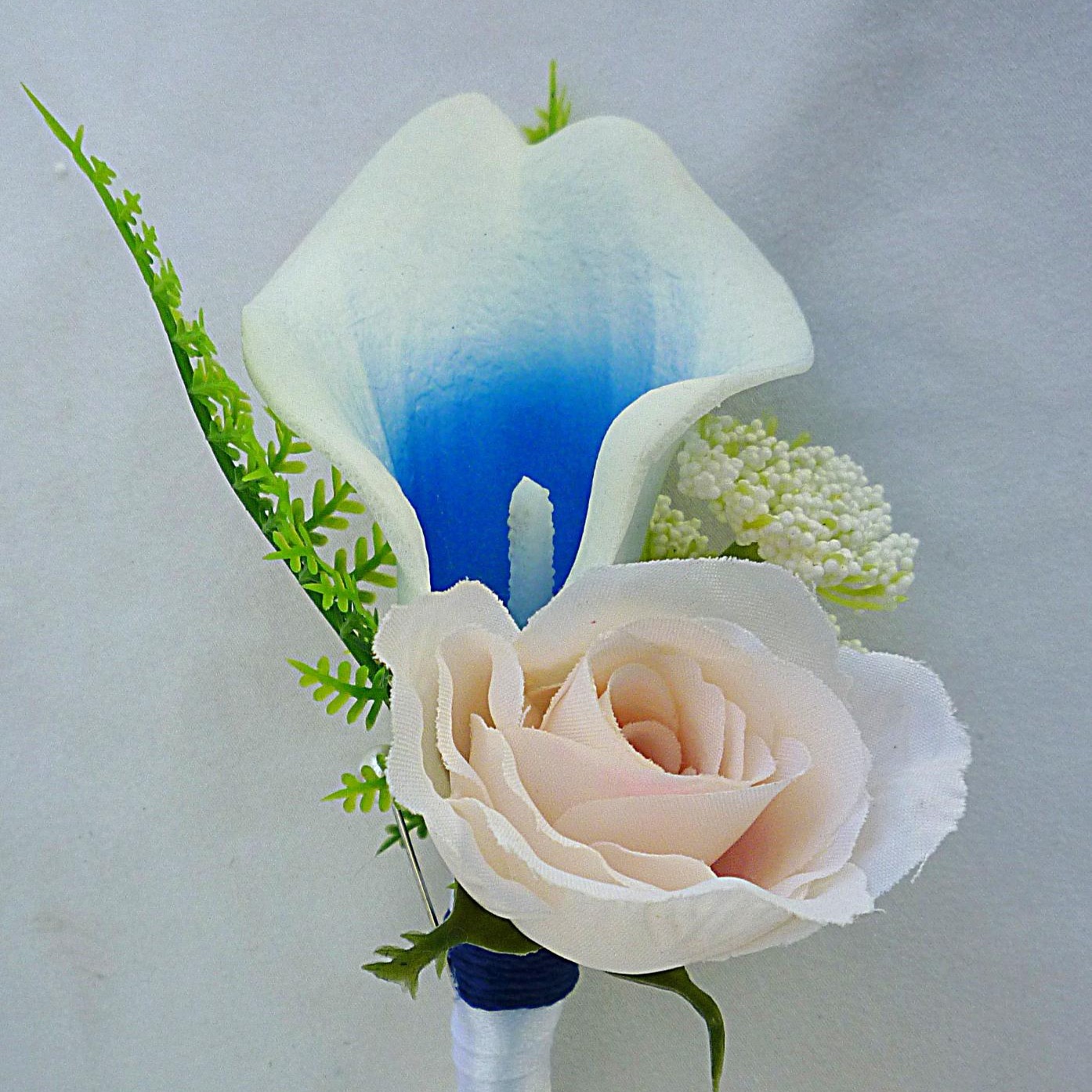 Cascading Calla's
*Gorgeous full and budding soft Roses available in most colors
*Gorgeous Calla lilies available in most colors
*Pretty white Hemlock wildflower fillers or baby's breath or gypsia family (based on availability)
*Beautiful Fern sprays for greenery
*Wrapped in your choice of color silk ribbon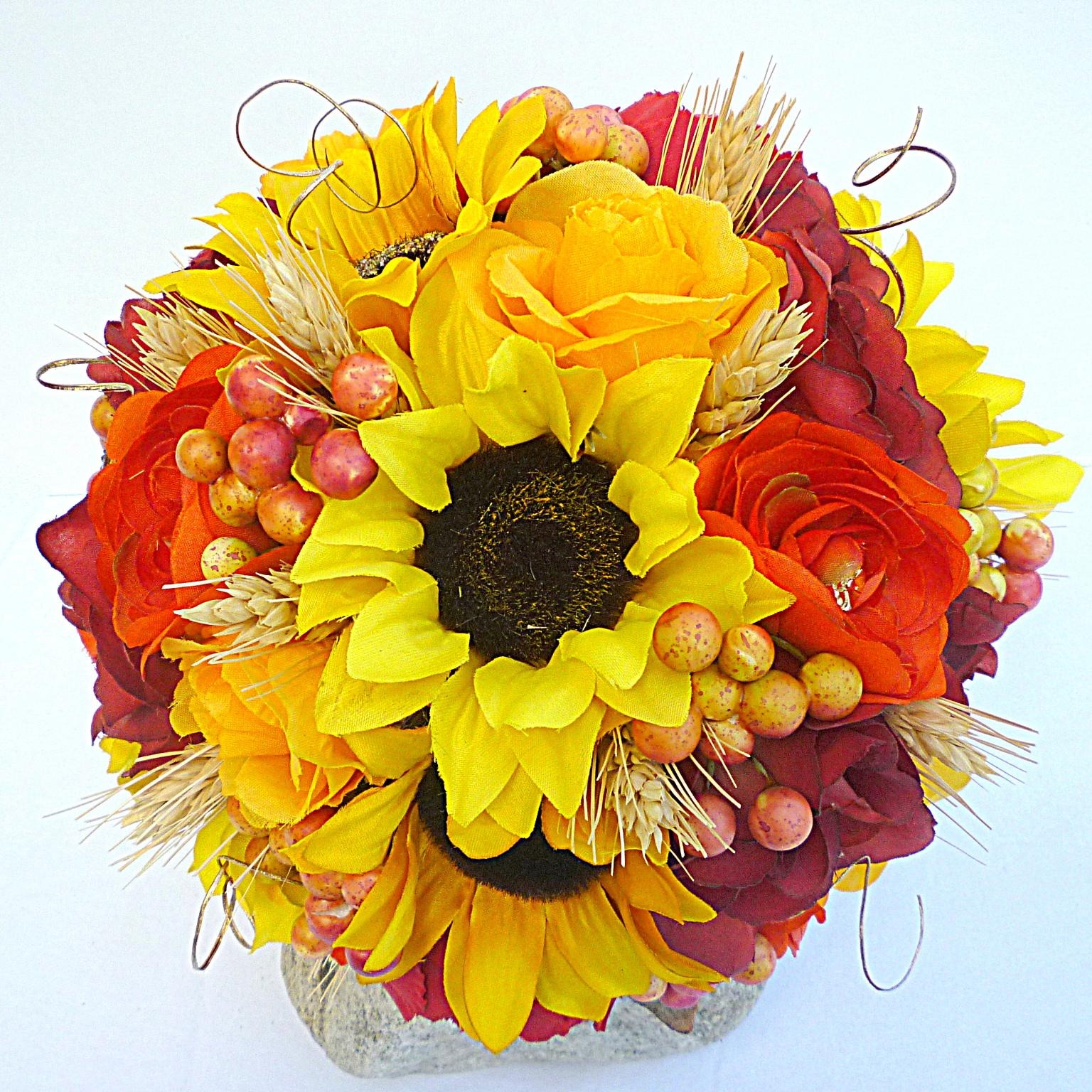 Fall Glory Collection

*Sunflowers or Gerbera Daisies
*Assorted baries
*Ranunculus available and many colors
*Beatiful full roses available in most colors
*Dried wheat or grassy Rabbit Tails
*Wrapped in burlap or choice of silk ribbon color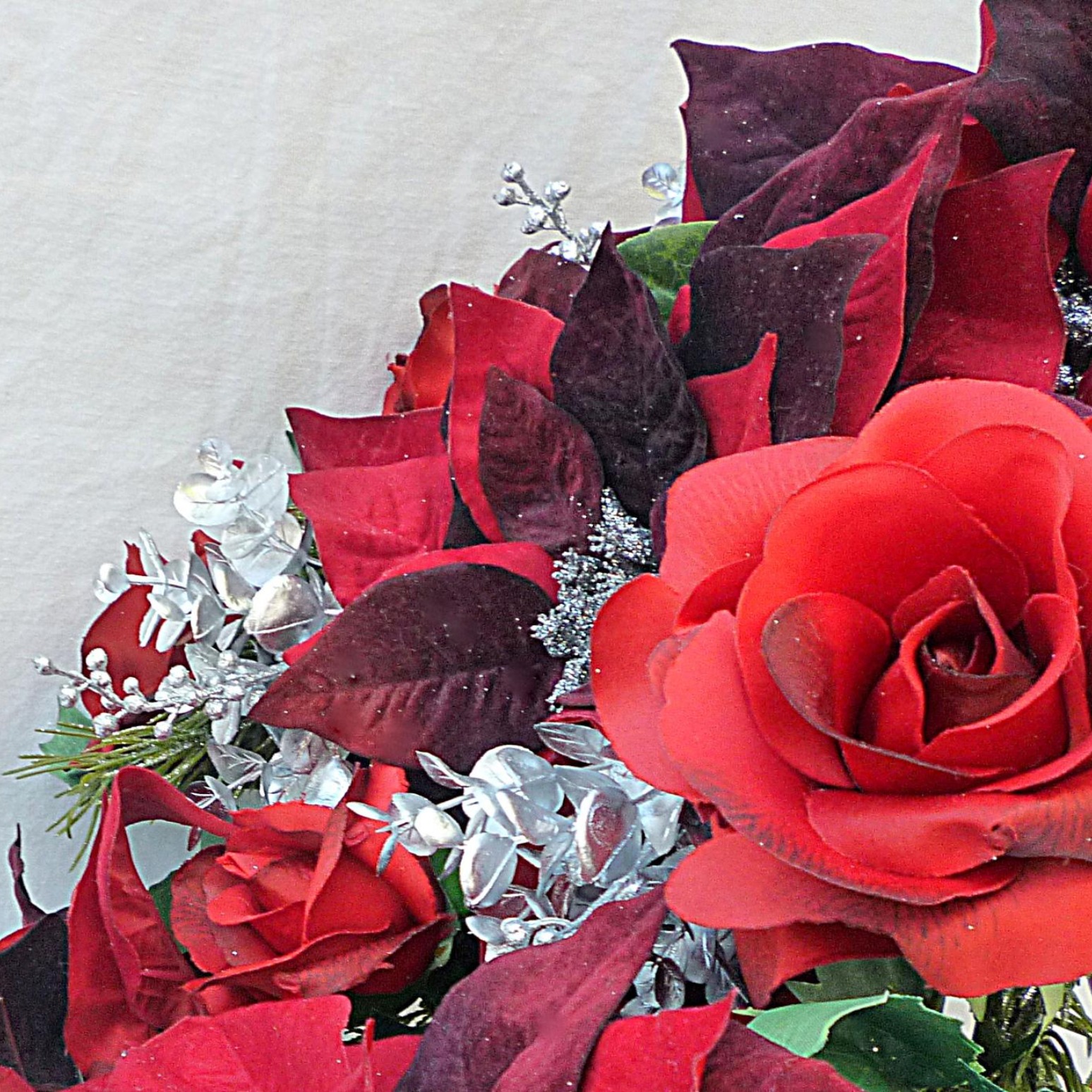 Holiday Love Collection
*Big bright red Roses
*Poinsettia's
*Complimentary holiday greenery filler
*Beautiful red berries
*Wrapped in complimenting velvet ribbon


Available Package choices
Perfect Package (most popular)

*1 round, 12"- 14" Bridal bouquet

*4 round, matching 6"- 8" Bridesmaids bouquet
*1 Special Grooms Boutonniere
*4 Groomsmen/Father's Boutonniere
*1 Matching toss bouquet
*1 Matching 2-foot arch piece
$700.00 including all taxes and service charges
(Shipping charges will be added if required)
Lovely Package
*1 round 10"-12" Bridal bouquet
*2 matching 6" to 8" Bridesmaids bouquet
*1 Special Grooms Boutonniere
* 2 Groomsmen/Father's Boutonnieres
*Matching Toss bouquet
*Matching Flower Girl Corsage
$500 including all taxes and service charges
(Shipping charges will be added if required)


Spoils Package
*1 Large, 1.5' long Cascading Bridal bouquet
*4 large 7" to 9" Bridesmaids bouquets
*1 Special Groom's boutonniere
*4 Groomsmen boutonnieres
*Matching Toss bouquet
*Matching 2-foot arch piece
*8 matching centerpiece bunches (no vase/container included)
$1000 including all taxes and service charges (shipping charges will be added if required)



All pre-designed styles can be made most colors, some restrictions apply. If other types of flowers, fillers, or greenery are requested extra charges may apply. All pre-designed packages include the set pieces but any collection can be customized with as many pieces as you need including corsages, hair pieces, table runners, aisle pieces, centerpieces, any any other floral need for your big day.
Custom Design Your Own Bouquets
Show Rachelle a picture or describe your perfect bouquet vision then choose and quote a package below to get your discount applied.

The Blooming Package (Most Popular)
*1 round, 10"- 12" Bridal bouquet
*4 round, matching 6"- 8" Bridesmaids bouquet
*1 Special Grooms Boutonniere
*4 Groomsmen/Father's Boutonniere
*1 Matching kids/youth Boutonniere
*1 Matching kids/youth Corsage
*1 Matching 5"- 7" Toss Bouquet
*1- 6" to 8" table arrangement (for signing table, cake table, e.c.t)
20% off
The Sprouting Package
*1 round, 10"- 12" Bridal Bouquet
*2 round, matching 6"- 8" Bridesmaids Bouquet
*1 Special Grooms Boutonniere
*2 Groomsmen/Father's Boutonniere
Get 1 FREE Matching 5"- 7" Toss bouquet
The full Bloom Package (Most value)
* 1 large round (12" - 14") Bridal Bouquet or Cascading Bridal Bouquet
*3 or more matching 6" - 8" bridesmaids bouquets
*1 Special Grooms boutonniere
*3 or more matching Groomsmen/Fathers Boutonnieres
*2 or more kids/youth Boutonnieres
*2 or more kids/youth corsages
*8 or more table arrangements
30% off
All package are custom priced depending on the type of flowers & accessories requested in the design.
Choosing your wedding flowers or designer/coordinator is all about finding the right match. Reach out and let's get to know each other – we can chat on FB, or send an email if your a busy bride. We can meet for a coffee or chat on the phone. Start by saying hello and lets see where your wedding vision takes us.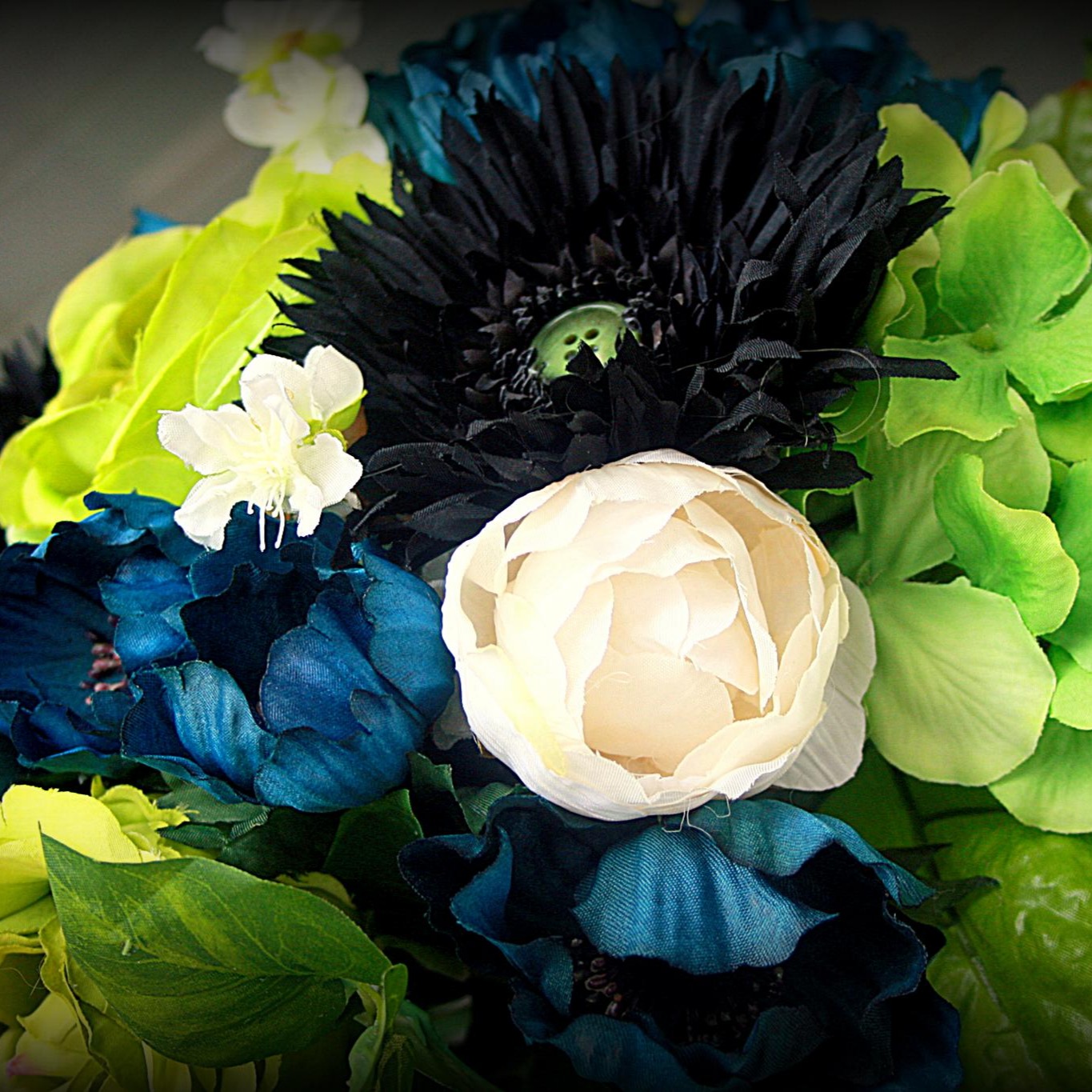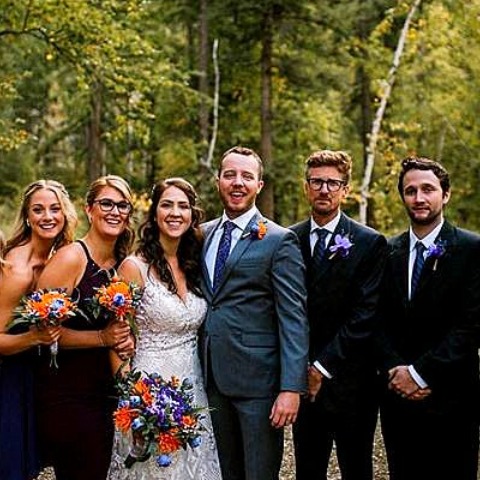 "Rachelle's Finesse in creating wedding decor may make it appear, her works of art are simple. But, her end products sophistication reveals true mastery. Handcrafted silk and artificial flowers arranged to last, in a beautiful balance of color and form, have become the Occasion Treasure Box's success story. My Husband and I wanted a unique atmosphere for our wedding. A specific expression of shared love, and connection that would support our pagan hand-fasting ceremony. We took a risk asking Rachelle to create decorations for our entire wedding, not just the flowers she is known for. One consultation with Rachelle, we knew we had found the perfect wedding decorator. Not only was she able to fully interpret our convoluted vision, that was more emotion then direction, it was as if she was able to truly empathize with the heart of our desires. A lot of handmade decors would have to be assembled at the venue, because of our unusual requests. For 2 days Rachelle gave our wedding as much love as we brought ourselves as she put everything together. Witnessing her skill was awe-inspiring, and when she revealed the reception hall we both wept. We would both recommend her services to anyone looking for any form of wedding decoration or her more popular floral creations.
She was always professional, with a laid-back, low-pressure approach that made her easy to talk to, and we could not be happier with the work she produced. Thank you for building us the perfect wedding, we had at least a dozen guests make comments about how truly unique and beautiful the entire thing was. Every person there was profoundly impressed with your work.
Eric Friesen & Collin Bishop

"Thank you so much for the beautiful bouquets. You did a great job capturing my ideas and picture of what I wanted. Grateful for your ability to be flexible and allowing for my input in the final product."
Stephanie Nelson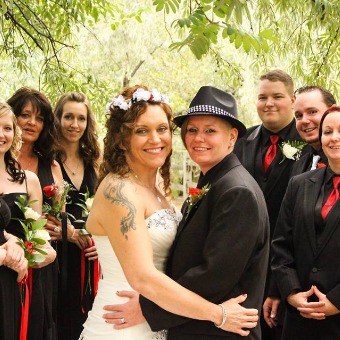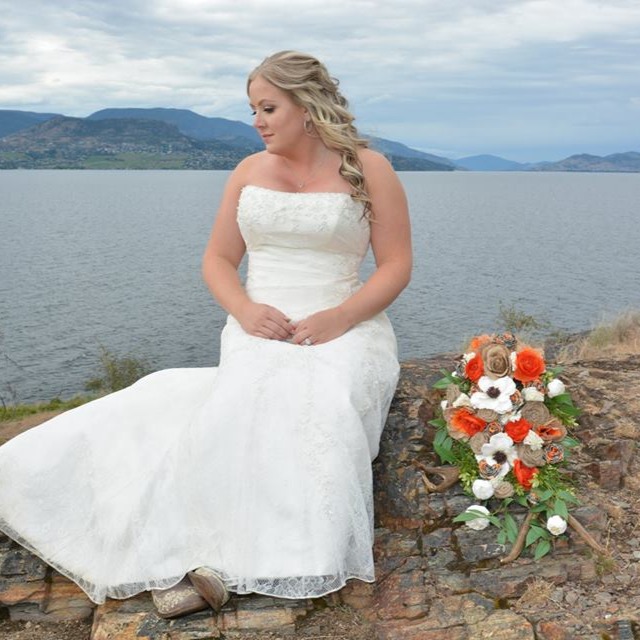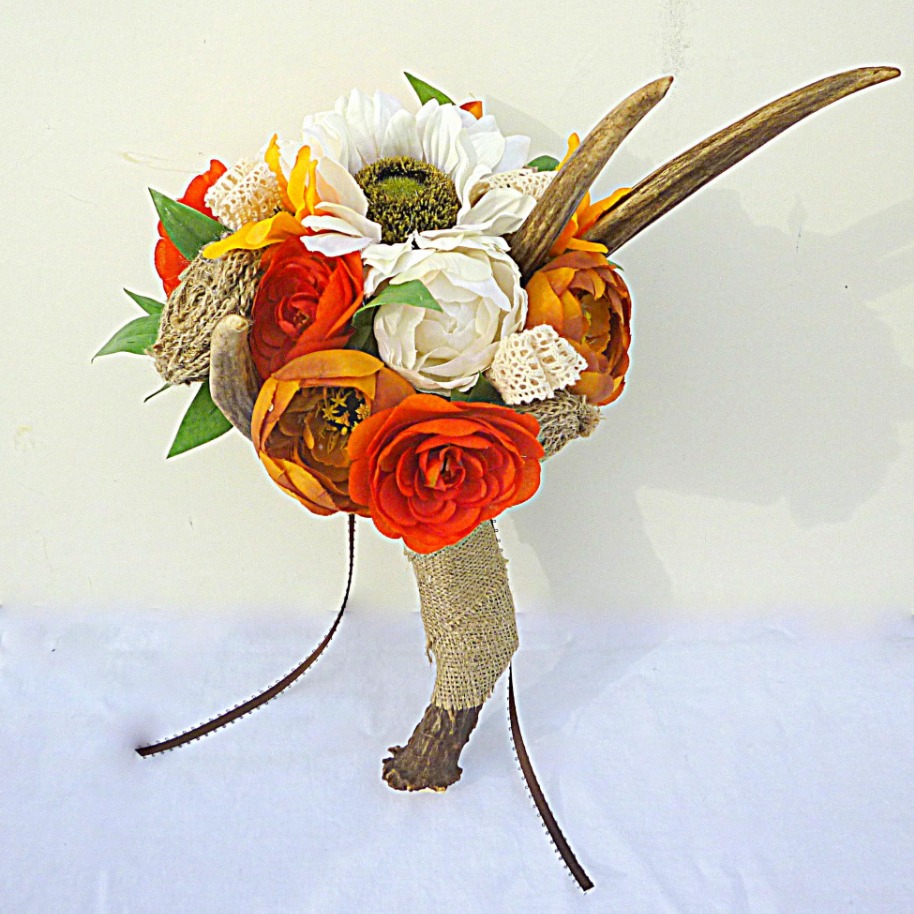 " Rachelle took our idea of classy rustic and brought it to life. She needed our idea..our colors then showed us prototypes and we were able to say yes or no...a little less of this or more of that...and by the time our wedding day came it was totally beautiful. 3 years and counting and we still have her bouquets and centerpieces...still as beautiful as if she just finished them. I highly recommend her!!
Her prices are very good...you pay for something that will last a lifetime instead of something that will fade and die quickly..so her products always bring back memories."

Shelly & Miranda Cody
"Such an amazing experience! Rachelle is amazing to work with, she makes sure she truly understands what you want, and makes that vision come true! So incredibly happy with my flowers and the way they turned out, I knew what I was wanting was outside the box but she totally came thru and made it amazing! Thank you so much Rachelle! Flowers I can keep a lifetime!"
Catharyn Metcalfe

"Absolutely a wonderful experience!!! Rachelle was so awesome to deal with, made an online experience the best ever!! So very talented, has an amazing ability to determine what it was I was looking for!! I am so thankful and extremely happy I chose to deal with her! The delivery via Canada post was amazingly quick!!! I highly recommend Rachelle and The Occasion Treasure Box!!"
Lisa Kaspersky Good